Discover more from We Are Not Saved
The harvest is past, the summer is ended, and we are not saved.
A Cautionary Tale
If you prefer to listen rather than read, this blog is available as a podcast here. Or if you want to listen to just this post:
---
I forget when Mark first told me about Becky. (All names have been changed for reasons which will shortly become obvious.) They met at work, I know that much. Mark didn't have many friends, and he definitely didn't have many, or perhaps even any, female friends, so Becky appeared to be a positive development.
It was early summer or maybe late spring of last year when Mark said that Becky was moving in with him. I was told that it was completely platonic, and she had a boyfriend. (I later found out that his name was David.) At the time I had no reason to doubt the platonic part, or the boyfriend part. Though the arrangement still struck me as being a little bit weird. The story was that she wanted to sell her home while the market was hot, and consequently she needed a place to stay. Mark's house isn't very large, two bedrooms, one bath, definitely less than a thousand square feet, so it was going to be tight, but I was told it was just temporary, while she waited for her boyfriend to finish a job in Canada.
As the months passed I heard rumblings that whatever the boyfriend was doing in Canada was taking longer and costing more than it should have, and, as a result, he was delayed. This annoyed Mark, because it prolonged the inconvenience, but otherwise things seemed to be okay. Over the last few weeks I got the feeling that tensions were starting to simmer but I assumed it was related to the stress of trying to cram two adults and two households worth of stuff into too little space. But supposedly it would all be over soon. Becky had sent her boyfriend some money to finish off the last of the job, and it would all be wrapped up any day now. 
The true nature of the situation was finally revealed to me last week. Mark approached me asking for advice, but what he really needed was money. The story he told me appeared plausible at first glance. The boyfriend had contracted with Suncor Energy to build an oil rig, and in between the pandemic and the subsequent supply chain issues, he was over-budget, and out of money, but if he could just finish the job he would get paid the remainder of his fees and he could make everyone whole. And all it would take to finish the job was $15,000 so he could purchase one final diesel generator. Mark came to me because it was urgent, David was being sued, and was facing jail time. 
I immediately questioned the idea of jail time for a civil matter, but when Mark assured me that he had looked it up, I let the matter drop. It's very common for people to offload their critical thinking to other people. No one has the time to critically examine every piece of information. This is why doctors, lawyers, scientists and republican governments exist. And I assumed that Mark had already done significant due diligence, particularly when he mentioned that he had given David (via Becky) a considerable sum of his own money. So while a couple of warning lights were active, my entire dashboard wasn't lit up, at least not yet. Fortunately those couple of warning lights were more than sufficient to keep me from handing over any money without documentation. But, honestly, I kind of expected it would be a formality. 
In response they sent me this:
And this: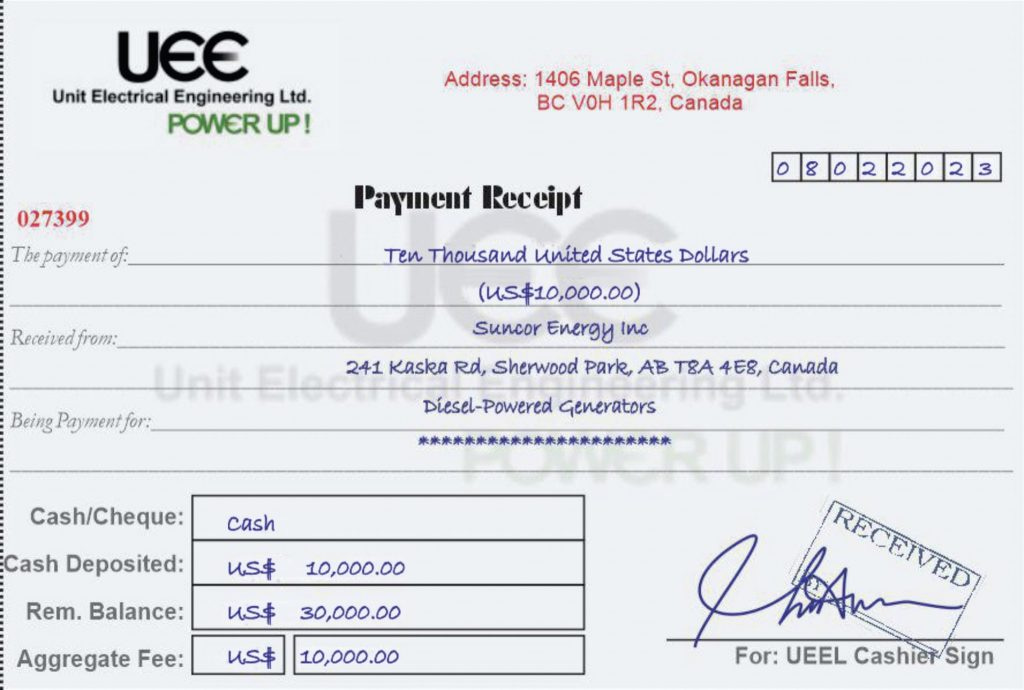 Okay… apparently it wasn't a formality, apparently we have some very lazy scammers on our hands. The letter has all kinds of typos, and what on Earth is "Please accept our congratulations" doing in there? As far as the second document, I'm not even sure what it's supposed to represent. Also I have had the unfortunate experience of being sued and nothing about the process ever amounted to a single page.
Still there was part of me that resisted the obvious conclusion because if I was right, and I had stumbled onto the last stages of an advance-fee scam, it meant that my friend Mark, and his friend Becky were out a LOT of money. Even with changing the name, "Mark" would rather I didn't reveal how much money it was, but between the two of them it was well into the six figures. Also I was under the impression that David and Becky had met before he went to Canada, which didn't seem to fit the fraud narrative. I later found out that they had in fact met on the internet. Which cast everything in a completely different light.
It was in fact a tragedy of colossal proportions. Becky was retired, and on social security. She had already sent "David" and his "attorney" all of the proceeds from the sale of her house, plus every last dime she could beg, borrow, or steal. Which is how she ended up convincing Mark to do something similar, including taking out a HELOC on his house, which, previous to this, had been paid off. 
I resisted immediately saying it was a scam, and instead took the tack with Mark and Becky that if David really was being sued they ought to be able to bury me in documents. Just the initial complaint ought to be 20+ pages. Becky said she would see what she could do, but she really needed the money that very day. David and his lawyer were desperate, and kept calling her. No problem, I told her, have them call me. In response I was texted the attorney's name, Brandon, and number, 813-551-1668 along with the caution that he had an accent.
I tried calling the number. It rang, and rang and rang, never even going to voicemail. I finally hung up. A few minutes later the "attorney" called me back. His number came in as "Scam Likely" and from the second I got on the phone whatever hopes or doubts I had vanished. Just from the way he answered the phone I knew this was no attorney, and yes there was an accent. I didn't talk to him long enough that I could place it, but it wasn't the accent of a native English speaker (Becky claimed he was British). He may have mentioned diesel generators, but I immediately asked for his last name so I could look him up on the internet. There was silence on the other end of the line. I asked him again more forcefully. He hung up. The following text conversation ensued: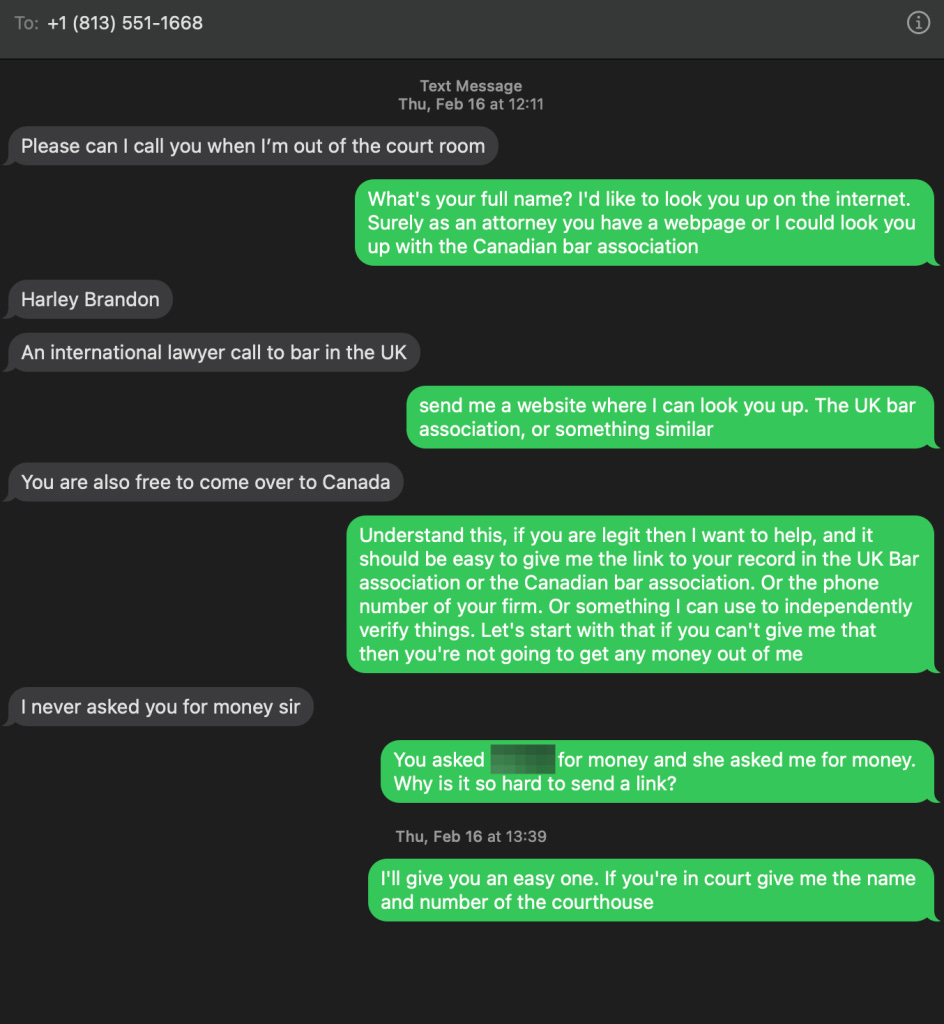 I forwarded that to Mark. I'm not sure how much he told Becky, but she promised she would get me more documents, but that David and his lawyer were super busy in court, and that's why they couldn't send me stuff…
In the end I got three more documents: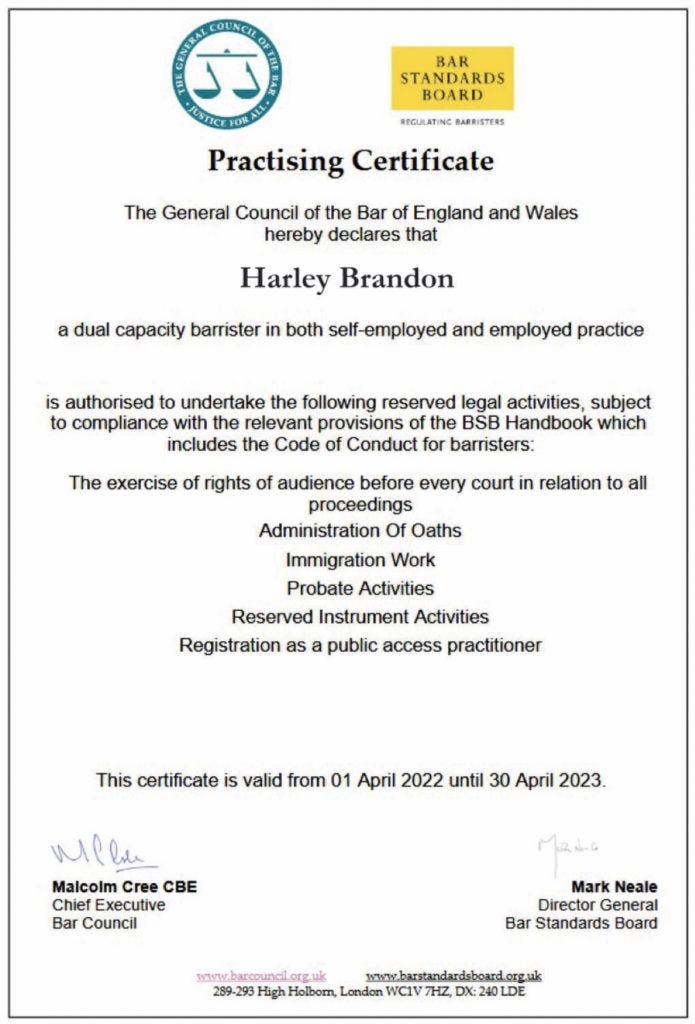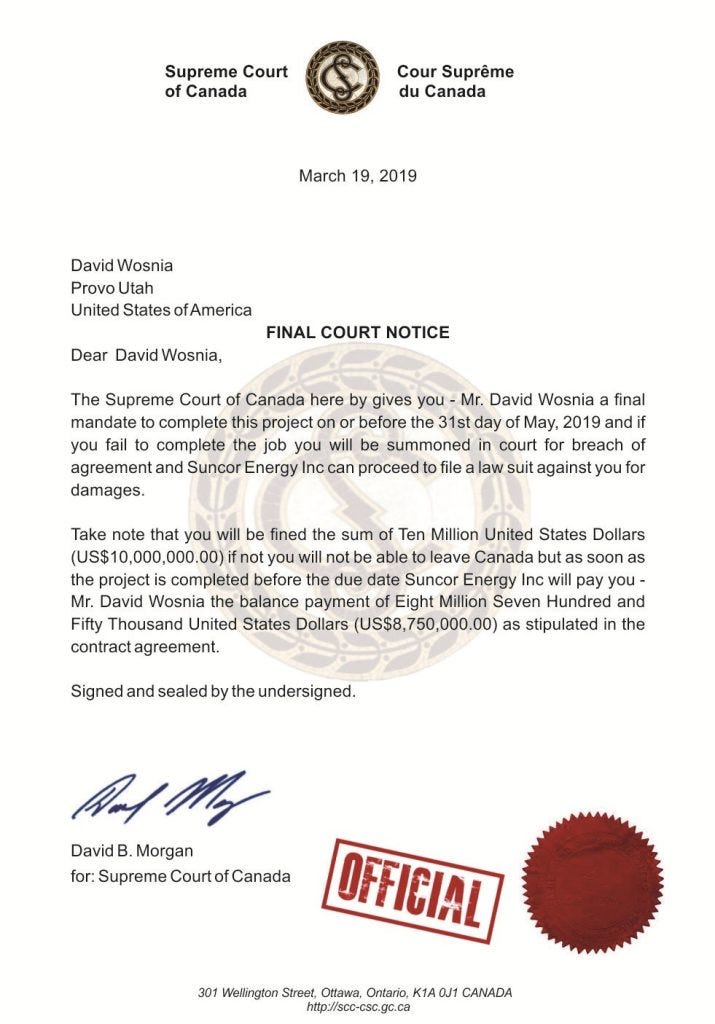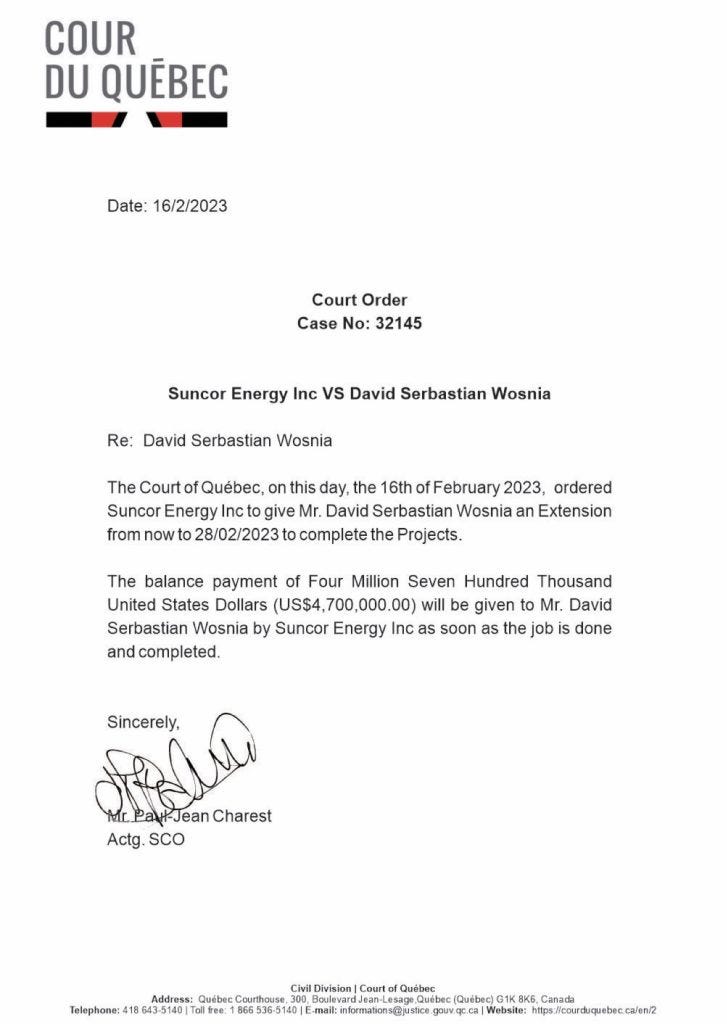 There's lots that could be said about these documents, but my point is not to dive into the minutia of the scam. Though I did find it interesting that all the "court" documents, despite only being a single page in length, always make sure to mention that the money is just out there waiting to be paid the minute the job is finished. 
Also while I couldn't find anything on the internet about the people or the case or the job (which is to be expected) Paul-Jean Charest, the signer of the last document, is an actual employee of the Cour du Québec, and I located his email. I sent him the document and asked him if it had been issued by his office. I wasn't sure if he'd respond. Having your email on the internet probably attracts a lot of spam, but he did, the next day with an emphatic "No". He wanted my number so he could call and talk to me. He has yet to do that, but perhaps I'll call him at some point. I haven't done so already because I'm very doubtful he'll be able to do anything to help.
Given the disaster it represents it's not surprising that Mark was somewhat resistant to completely giving up hope, but the email from Monsieur Charest was the final nail in the coffin. Becky unfortunately still believes. This is the last text message I got from her: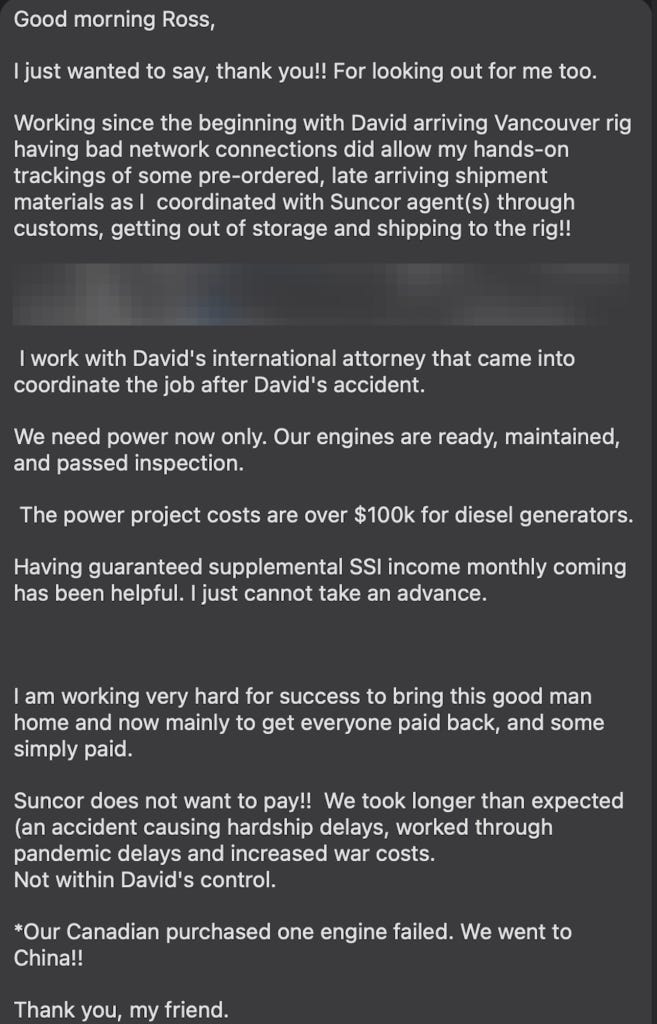 I don't share this message to in any way mock Becky, but as a further illustration of the tragedy, and as bad as this tragedy is, as you might imagine, there's more to come. There's the obvious point at which Becky realizes it's a scam, that she never had a boyfriend, only a very wicked person pretending to love her so he could take all of her money and then some. And what is Mark to do about Becky? She's living at his house and now doesn't have any money with which to move out. I'm not sure her SSI would even get her an apartment (particularly given that she has a dog.) So the story will continue, but we've reached the end of it for now.
Is this one of those stories that ends with a moral? One would hope so. I'd like to think there's some lesson we can gain from the disaster. Some small benefit we can pluck from the carnage.
And one that goes beyond just "There are bad people out there doing bad things. Watch out!" I'm aware that this is an N=1 situation (or maybe N=3 if you count Mark, Becky and myself) so to the extent there is a moral, it's based on one anecdote, not extensive data, but hopefully it will carry some utility regardless. With that caveat in place here's a few things that stand out to me.
I'd obviously like to talk to Becky and get more of the details on how things began. How long before "David" asked for money. One of the documents mentions 2019, and I think they said it had been going on four years at some point, but obviously the pandemic and the supply chain issues were huge gifts to the scammers. Suddenly whatever they claimed as far as delays and cost overruns made perfect sense. 
But even without the gift of the pandemic, the narrative and story behind this particular advance fee scheme strikes me as being far more sophisticated and believable than the ones I've heard about in the past — the traditional Nigerian Prince scam, and the one's which just claim that there's a huge amount of money locked up in an account. Those traditional schemes seemed so ridiculous on their face that you could imagine that only greedy people would fall for them. Such that we might comfort ourselves by saying that they got what they deserved. This scheme wasn't driven by greed, but by love. At no time did Becky ever offer me double my money back, or something like that. It was always "Help my boyfriend and I'll promise to pay you back. Even if I have to do it myself." That said, I'm sure the romance angle isn't new, still it seems more pernicious, and also easier to pull off now that online dating is far more common. 
Speaking of which, is this scam easier to pull off in general these days than it was in the past? The documents she sent look reasonably authentic. It's mostly only the content (or lack thereof) that is suspicious. They have watermarks, logos and stamps. Obviously the technology required for this level of fakery has been around for a couple of decades, but what about new technology? How long before ChatGPT or something similar could have given me the 20+ page complaint I expected? Or craft a believable news story with pictures? Headline: "Provo business man secures lucrative $17.5 million dollar contract." Perhaps the resources available to detect such scams is also greater? Maybe so, but Becky would have had to choose to avail herself of those resources. Or even know they exist.
A quick internet search would seem to indicate that such scams are in fact on the rise. Here's a headline from CNBC: Consumers lost $5.8 billion to fraud last year — up 70% over 2020. A 70% year over year increase is huge. Also of note, the article reveals that the average amount lost to an imposter scam is $1000, so Mark and Becky are giant outliers in the amount they lost. 
If we allow ourselves to get even more speculative, I have to wonder if there's something about the modern world that made Mark particularly vulnerable. Some background: he had a career in tech, but it got derailed by the dot-com bust. I'm sure he could have resurrected it if he'd worked hard enough, but instead he drifted into a series of service sector jobs. This was mostly fine. Being single he didn't need much money, and up until he got enmeshed in this scam he was doing pretty well. His house was paid off, and he had enough money to avail himself of all the comforts of modernity (streaming services, eating out, pursuing his hobbies) and have a surplus on top of that. In other words, Mark didn't fall prey to the scam because he was bad with money. He was great at living within his means. So how did this particular scam end up being his Achilles heel?
As I said we're in more speculative territory. I think having few friends and fewer family contributed. Mark's parents are both dead. He cut off his brother for being a conspiracy-obsessed Trump supporter, and his remaining sibling, a sister, lives out of state, nor are they very close. One imagines that if Mark hadn't been so atomized, if he had had a large community, that it would have helped. Though perhaps I'm wrong about that. Mormons are famous for having strong communities, and also for their susceptibility to affinity scams. Maybe Mark had precisely the wrong amount of community, enough to be snared by Becky, but not enough that anyone cautioned him. 
What about marriage? If he had been married to Becky, or married, period, it wouldn't have happened. Instead he ended up deep in white knight mode, another thing modernity seems to have made far more common. This first started when he agreed to let Becky move in, but it then progressed to the point that he gave her all his money. One also detects something of Richard Hanania's Women's Tears observation, and by Mark's report there were a lot of tears shed. 
If anyone out there has any ideas for recovering the money I'm all ears. But I'm guessing it's gone, and shortly "David" and the "attorney" will disappear as well. Leaving only a wound that will haunt Mark and Becky for the rest of their lives.
---
It doesn't feel like the time for jokes, but it does feel like a time where it might be appropriate to ask for money. I am helping Mark out somewhat, but if anyone also feels like helping, I will take any pledges which come in over the next couple of weeks and give them entirely to Mark, for the duration of that pledge. (So if you sign up for $3/month on patreon, I'll make sure Mark get's $3 every month as long as it lasts.)